After arriving in terminal 3 (Eva has since moved to terminal 1) at Pearson International Airport in Toronto I find the EVA air counter.  There are a lot of people checking in and the lines are pretty long.  Fortunately, I am an Aeroplan gold member so I can use the Star Alliance Gold benefits to get into the short line.
When I check in I am told the plane was oversold so I will be upgraded to premium economy.  I figure this is similar to the United Plus seats; where there is just a bit more leg room but not much else.  It turns out these seats are way better than the standard economy seats.
They are configured 2-4-2 which takes one seat out of the 3-3-3 configuration in economy. The best part of the seat is it's recline. It's not the standard back recline, it seems to move the whole seat into a more comfortable position. There is even a leg rest that comes out to give you a quasi-lazy-boy feel.  Unfortunately, it's not nearly the lay flat seats of Laurel class but it's a pretty good step up from economy; especially for free.
Stepping back for a moment, Eva air departs from terminal 3 in Toronto. This means that it doesn't have access to the maple leaf lounge.  As a star gold member they give you a pass upon check-in that gives you access to the Plaza Premium Lounge. The lounge is small but adequate. It has beers and liquors and a bit of food. I wouldn't say more or less then the maple leaf lounge but it's a different selection. It seems to be aimed more at the Asian taste.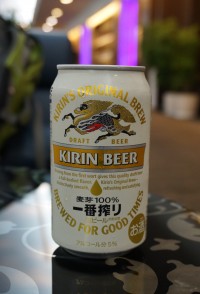 My arrival in Taipei is on time so I have plenty of time to check out the Eva lounge.  It's really nice.  There is a selection of liquors and beer in the fridge along with the standard assortment of sodas.  But first I opt for a shower after the long flight.  There is a queue, but I am given a buzzer to alert me when it's my turn.  Just as I open my beer, the buzzer rings.
I am amazed with the shower facilities in this lounge. The shower is very clean and well appointed. I relax in the hot shower for a while, taking a long deserved break from the 15 hour plane ride.
For the next leg of my journey I am back in regular economy class.  The seats are definitely not as good, but still not terrible.  The entertainment system is the same but there is a lack of a power connector between the seats to charge my tablet. Luckily it's only a few hours flight and I survive.
When I arrive in Bangkok I need to clear customs. Since I was sleeping on the flight, I didn't get an arrival/departure card.  It turned out it was actually quite difficult to find one. I spent about 30 minutes looking for a card before finally finding someone who had one.
After completing the departure card I got in the disaster of a line for customs. I'm not sure if it was because a number of flights came in at the same time or if this is how it is all the time but the line was LONG. I did find in my search for an arrival card, that there is a second immigration point further down the airport that was a lot less busy then the first one where everyone seemed to be stopping. However, it still took me about 45 minutes to get through the immigration line.
My flight leaving the next day is out of Don Muang airport instead of Suvarnabhumi airport where I had landed.  There is a free shuttle between the airports that leaves hourly if you have a boarding pass for a flight out of Don Muang airport. I didn't show mine and just got on the bus, but for most people they were asking to see it.  On the bus there is very little luggage space so if you had a really large bag you may have issues, but for everyone there, it was fine.  The shuttle left at 2pm and it arrived at approximately 2:45pm.
Since I have a 6:30am flight, I booked the Amari Don Muang Airport hotel that is connected to the airport. Its connected by a walkway over the road and is quite convenient. I wasn't expecting much, but it exceeded my expectations.  The only downside is that there is really nothing around the hotel to eat.  In the airport there are a few little places, but not much.  Most of the food is inside airport security and you need a boarding pass to get to it.
Note:  If you are exchanging currency, Don Muang airport has a much better rate then Suvarnabhumi airport.