After arriving in terminal 3 (Eva has since moved to terminal 1) at Pearson International Airport in Toronto I find the EVA air counter.  There are a lot of people checking in and the lines are pretty long.  Fortunately, I am an Aeroplan gold member so I can use the Star Alliance Gold benefits to get into the short line.
When I check in I am told the plane was oversold so I will be upgraded to premium economy.  I figure this is similar to the United Plus seats; where there is just a bit more leg room but not much else.  It turns out these seats are way better than the standard economy seats.
They are configured 2-4-2 which takes one seat out of the 3-3-3 configuration in economy. The best part of the seat is it's recline. It's not the standard back recline, it seems to move the whole seat into a more comfortable position. There is even a leg rest that comes out to give you a quasi-lazy-boy feel.  Unfortunately, it's not nearly the lay flat seats of Laurel class but it's a pretty good step up from economy; especially for free.
Stepping back for a moment, Eva air departs from terminal 3 in Toronto. This means that it doesn't have access to the maple leaf lounge.  As a star gold member they give you a pass upon check-in that gives you access to the Plaza Premium Lounge. The lounge is small but adequate. It has beers and liquors and a bit of food. I wouldn't say more or less then the maple leaf lounge but it's a different selection. It seems to be aimed more at the Asian taste.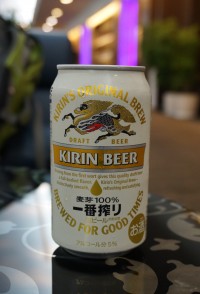 My arrival in Taipei is on time so I have plenty of time to check out the Eva lounge.  It's really nice.  There is a selection of liquors and beer in the fridge along with the standard assortment of sodas.  But first I opt for a shower after the long flight.  There is a queue, but I am given a buzzer to alert me when it's my turn.  Just as I open my beer, the buzzer rings.
I am amazed with the shower facilities in this lounge. The shower is very clean and well appointed. I relax in the hot shower for a while, taking a long deserved break from the 15 hour plane ride.